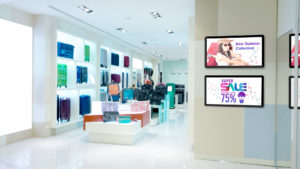 Inform and effectively engage your shoppers during their purchase time.
Transform in-store experiences right at the Point-of-Sale with Gallery Digital Signage solutions.
Enhancing in-store customer experience
Instantly updating targeted local, regional, or national promotions
Reducing printed material expense while increasing the frequency of updates
Educating consumers with health & wellness and recipe ideas, for example
Using it for associate training, education, company event, and general communications
Engaging shoppers at the critical Point-of-Purchase, with eye-catching dynamic offers
Rotate multiple advertising campaigns at selected times and/or at selected stores or store districts
Offer various levels of advertising to vendors based on factors such as, placement in the insert/feature, gross margin, holiday/seasonal activity, etc.
Advertising high margin, store branded products or vendor supported national brands
Present unique department promotional or marketing campaigns at selected times to targeted unique store group shoppers and;
As an economic enabler, the investment in the Gallery™ Digital Promotion Retail Solution will be more than offset from increased gross margin benefits from increase in same store sales, better product mix, as well as generating promotional and advertising opportunities from local and national suppliers.
Download our Retail Solutions here: brochure
Download our Retail Applications here: brochure